Home Tuition Johor Bahru
Dr Stanley's home tuition in Johor Bahru designed to help you find a private tutor in Johor Bahru. My home tuition helps students to achieve their full academic potential by giving them the option of private tuition.
Currently, the private tutoring services is available for all areas of Johor Bahru. In addition, other places such as Kulai and Sedenak are also being covered as well. As such, I would be traveling place thus you don't have to worry about transportation. In addition, the class time would be arranged at a time that give a mutually convenient between us.
At the moment, I do provide home tuition on the following subjects.
Mathematics
Additional Mathematics
Physics
Economics
Finance
Business Studies
Others
Generally, the home tutoring services in Johor Bahru are provided on 1 to 1 tutoring basis. However, group tuition is also available upon request.
Meanwhile, my home tutoring services cover most of the syllabus including Cambridge and Malaysia:
About the tutor
Dr Stanley Loo (PhD (UTM), Master of Applied Statistics with distinction, UM)
i) Teaching Experience
As an experience academician, I have lecturing experience in college and university. In addition, I have several years of experience of being a private tutor in Johor Bahru.
ii) Academic Achievement
Moreover, I also have number of publications in international peer reviewed journal for mathematics article, finance article and economic article.
Why choose to have home tuition
These are couple of reasons why my home tuition services is attractive to you.
Efficiency in time arrangement
High quality of service that leads to a better understanding of student
Customization of service that let the student to be more focus during the class
Home Tuition Services Inquiry
For more information about my home tuition services in Johor Bahru, please contact through the following.
SMS/Watapps : 017-7058496
Book my home tuition service
Anyone who interested to have home tuition with me please send in your query by following method:
Text Messaging (sms)
Watapps
Kindly send your query to 017-7058496 (Mr Stanley Loo) to appointment for phone discussion. Thanks.
In addition, please include your details:
Name of student
Tuition subject
Current location
In addition, you can also refer to the frequently asked questions.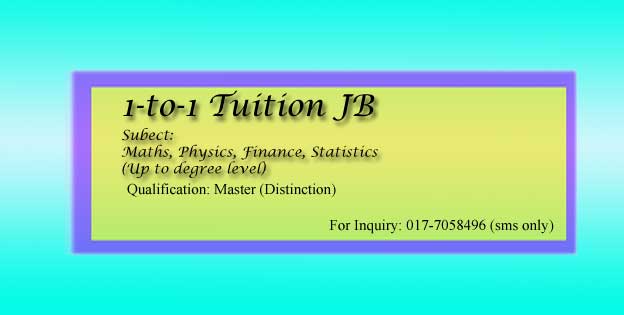 List of Subjects
Currently, my home tuition services in Johor Bahru are available for the following subjects. However, you can submit an inquiry for the other subjects.
Latest Examination Syllabus
Cambridge
This applies to those who studies Cambridge Secondary 2 (from age 14 to 16).
Mathematics Syllabus (From 2017 to 2018)
Additional Mathematics Syllabus (From 2017 to 2019)
Physics Syllabus (From 2016 to 2018)
Economics Syllabus (From 2017 to 2019)
Business Studies (From 2017 to 2019)
Home Tuition Coverage
The home tuition services in are mainly covering Johor Bahru area and some areas in Southern Johor. My personalized tutoring service aims let those who needs private tutor in Johor to receive my care.
Kulai

Senai

Skudai

Pulai

Taman University

Bukit Indah

Johor Bahru

Nusa Jaya

Perling

Permas Jaya

Masai

Pelangi Indah
However, I do also cover other areas such as Kuala Lumpur, Selangor, Melaka upon request. For instance, my tutoring service provides:
Business Mathematics Tutoring in Kuala Lumpur
Business Statistics Tutoring in Selangor (Petaling Jaya, Shah Alam, Klang)
Corporate Finance Tutoring in Selangor (Petaling Jaya, Shah Alam, Klang)
Home Tuition Charges
Tuition rates is charged based on hourly rate at the basis of 2 hours class per session. In addition, it varies according to the zone of location you located in Johor Bahru. Please contact for further information.
Online tutoring services
For those who stays far away from Johor Bahru, I do provide online tutoring services.
Home Tuition Singapore
Nonetheless, I do provide home tuition in Johor Bahru for those who studying in Singapore. In addition, online tutoring for Singapore O-level and A-level is also available!